Vax trials pre-date emergence of first 4 major Corona Variants — Omicron an Orchestrated Omen?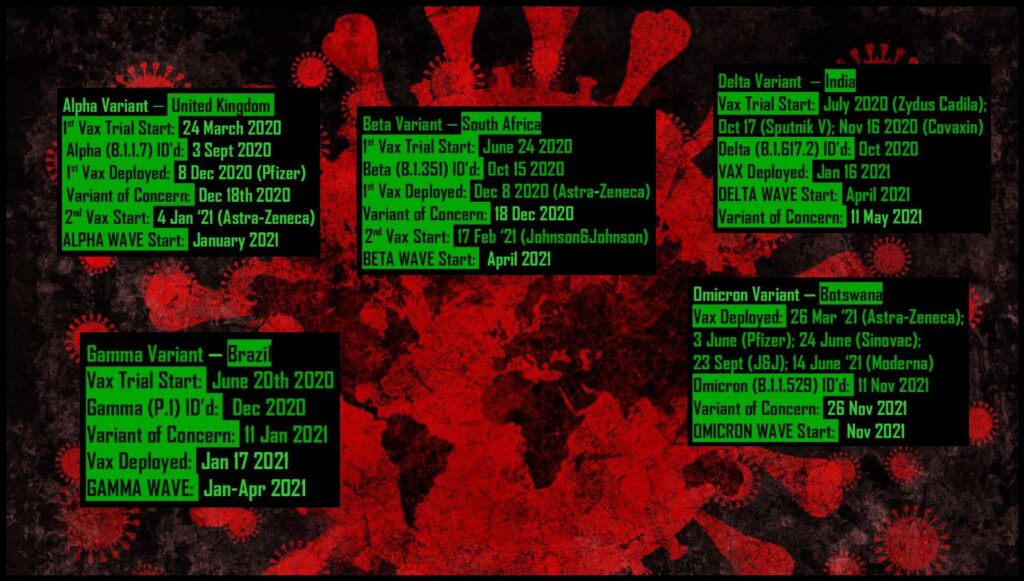 This heretical investigation shows the correlations between countries that hosted Covid-19 'vaccine' trials prior to four of the five biggest 'variant outbreaks' emerging in the very same nations of interest. In the cases of the first four variants — Alpha, Beta, Delta and Gamma — the 'variant outbreaks' surged in the nation of interest amid mass 'vaccine' roll-outs.
However, in the case of the Omicron variant, a variation on the 'variants epistemology' occurred. The widely reported 'emergence' of 'Omicron' in Botswana and South Africa were attributed to the date of November 11th and 12th of 2021, respectively.
Despite the variant meta-data showing 16 nations — including South Africa — with 'earliest sample dates' occurring prior to Botswana's discovery, the news record shows several nations conveniently found Omicron cases in the days after the World Health Organization named variant B.1.1.529 as Omicron on 26 November 2021.
This anomaly in the case of the Omicron variant (B.1.1.529) cannot be easily explained away as human error, as can be with the previous four major variants.
Steve 'Snoopman' Edwards finds that the global mass 'vaccine' programs were a live product demonstration to show that the mRNA technology worked. This proof of concept global experiment was predicated on the top-down universal decision to use the spike protein as the active ingredient in the manufacture of Covid-19 injectibles.
The spike protein ingredient became a vector for the uncontrolled expression of SARS-CoV-2 spike protein within human cells, as well as a global experiment to field test the lipid nano-packages used to courier the synthesized spike proteins.
Key Finding: The SARS-CoV-2 spike protein ingredient — and the nano-technologies used to transport the synthesized spike proteins — became the basis for an explosion in Covid-19 cases, a proliferation of variants, and surges in vaccine adverse events, including deaths.
By Steve 'Snoopman' Edwards
The Vaccine Trials Connection
Please follow and like us: